An EHTS Movie Review of DC's Justice League
An EHTS Movie Review of DC's Justice League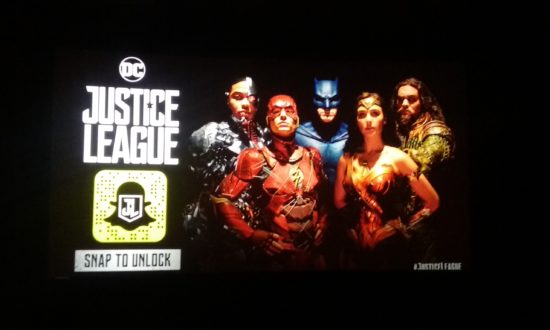 Considering what DC & Warner Bros.have given us since beginning their own "cinematic universe" with Man of Steel, it was like flipping a coin wondering if Justice League would live up to the hype like Wonder Woman or be a disappointment with a so-so story and some good parts like Suicide Squad. The hype is through the roof for Justice League, too. It feels like we've been bombarded with the advertising, trailers, pictures and promotion of it pretty much every day for the past couple months.
The comic book/superhero genre has been pretty huge for a while now. There is a wide range of fans of this newer genre. You have the diehards who read all the comic books when they were growing up and they dissect every part of each movie and get upset if it isn't how they wanted it to be or the actors were not right for the roles. Then there's the fans who may have read some of the comic books but weren't "ALL IN" on them but really like the genre and aren't concerned if the movies mirror the stories from the original comic books. They just want to be entertained. Finally, you have the fans who really don't care either way. They just want to see a good movie with a good story.
Most of those superhero movies, though, have come from the Marvel side of the comic books. That's largely because they started the "every movie in the same world" idea with Iron Man back in 2008. Marvel is up to 17 movies and 8 television series with a combined 13 seasons and, of course, more on the way. DC is up to 5 movies with Justice League.
Of Marvel's 17 movies, about 4 were maybe not as good as they could have been for whatever reason. Of the 4 DC movies before Justice League, Wonder Woman is really the only one that stands out as a really good movie. The others were just okay and weren't received very well critically or by the fans. So, did DC change something with how they made Wonder Woman to make it a better movie?
Well, for the first 3 movies, leadership at Warner Bros. pictures sidelined DC Entertainment President Diane Nelson & Chief Creative Officer Geoff Johns. After those 3 critical & box office failures, DC Entertainment had to rethink its universe and they decided to implement "a new tone built on "hope and optimism" with Wonder Woman" and it was a huge hit. Part of that new tone also had to do with the continuity of fitting everything into one universe. They now want to use "the continuity to help make sure nothing is diverging in a way that doesn't make sense, but there's no insistence upon an overall storyline or interconnectivity in that universe…"
That should be a good sign for future success as well. Having just watched both Suicide Squad and Wonder Woman just before seeing Justice League, I had literally just experienced a down and the up of the Universe of  DC Movies or whatever they're going to call it.* That made me hope for good things with Justice League. It's the biggest movie since DC started this universe and they obviously want it to succeed both critically and at the box office. They actually brought in Joss Whedon to finish the film due to a family tragedy for director Zack Snyder.
*Pick something and let us know, already! Come on, DC!
The movie starts by showing how the world has changed since the death of Superman and that serves as one of the main reasons for Batman & Wonder Woman to seek help and form the Justice League. They find and recruit Aquaman, Cyborg and The Flash to join them in the battle to save the planet from a powerful new enemy. The action picks up but it doesn't take away from the story and there's a good mix of humor, too. This new group of heroes has to work through the transition of working as a team but they come through and it works both as part of the movie and for the fans.
It's a good movie that's also a lot of fun. It's a good follow up to Wonder Woman. Cyborg is pretty cool. The Flash is good comic relief. Aquaman is cool. Wonder Woman is amazing. Batman is Batman, which is to say he brings the cool weapons and vehicles that only he can because his superpower is being rich. The movie isn't very smooth but this might be the most difficult movie to make for DC. They have to figure out how to make everything and every hero work together in the story. They've done a great job with Justice League and they may have found the right formula for their Universe.
Hopefully, we didn't give away anything about the movie except the main points. Here's the theme directly from DC Comics:
Fueled by his restored faith in humanity and inspired by Superman's selfless act, Bruce Wayne enlists the help of his newfound ally, Diana Prince, to face an even greater enemy.  Together, Batman and Wonder Woman work quickly to find and recruit a team of metahumans to stand against this newly awakened threat.  But despite the formation of this unprecedented league of heroes—Batman, Wonder Woman, Aquaman, Cyborg and The Flash—it may already be too late to save the planet from an assault of catastrophic proportions.
Directed by Zack Snyder, this marks the big screen debut of the Justice League, featuring an all-star lineup: Ben Affleck, Henry Cavill, Gal Gadot, Jason Momoa, Ezra Miller and Ray Fisher.
FYI-There are two bonus scenes after the movie, one before the credits and one after the credits. They are both worth waiting for so…don't be worried about beating traffic.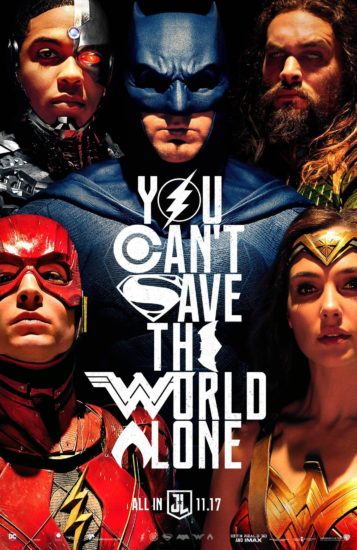 In Theaters on
November 17th, 2017
Go to IMDB.com's Justice League page to find the movie theaters and times where you live.
THANKS for reading our review of Justice League. We also reviewed Disney Pixar's Coco last week so check that out and let us know what you think of the movies, our reviews or any other upcoming flicks!